Awesome Sports Logos Blog
Today's Sports Logo Review takes us to Lowell Massachusetts, home of the Lowell Spinners of the Single A New York Penn League.
The Spinners recently unveiled a new logo so lets take a look.
The name and logo have great history in this region, a history that many may not know. You may have never heard of Lowell but back in the 1800's Lowell was a textile giant. Cotton was grown in the south and shipped to Lowell. At one point there were more cotton spindles in Lowell than anywhere else in the United States. That's why this logo makes so much sense. Many of the plants are now historically preserved and turned into museums. I love the name Spinners.
Here's what team owner Dave Heller had to say. "Our new logos better reflect exactly who we are," said team owner Dave Heller. "The old logos did not even mention the word 'Lowell.' We are proud not merely to be from Lowell but of Lowell; the canals that run through this great city are a big part of our DNA, and we are proud to put the Lowell name back on our logo, jerseys and caps. We also wanted to incorporate our affiliation with the Red Sox as well as the factories and mills that define Lowell. Like the Spinners, they are an integral part of Lowell's past, present and very bright future."
Great explanation by Mr. Heller. The factories and mills are a nice touch to the logo and I also like the Red Sox formatted lettering. It's a great way to tie in the parent MLB club without calling it the Lowell Red Sox which happened in the past with many big league teams. One explanation left out is the Gator. As a guy that grew up in the Bay State, I can tell you, Alligators in Lowell, MA are few and far between. A bit too chilly in the channels of Lowell but I don't mind the Gator touch. In fact, the club has named it a Canaligator after the six miles of Lowell canals.
Great job Spinners. You have an awesome logo and you run a fine organization packing the house year after year. Well done Lowell!
At Awesome Sports Logos, we feature two Massachusetts baseball logos on our t-shirts.
The first is the Boston Accents
Baseball has such a rich tradition in Boston and Bostonians also have a distinctive Accent. You'll certainly hear it if you ever take in a game at historic Fenway Park. We put the two together and created this tribute to the great baseball city of Boston.
Our other awesome t-shirt pays tribute to one of the best collegiate leagues in the country. Each summer, many of baseball's top prospects descend upon Cape Cod. Just like the Majors, only wood bats are used in the Cape Cod League and the best part, there is no admission to the games. They pass around a hat in the stands and everything is paid for in donations. It's a great league and a great way to see the stars of tomorrow. We love it so much that we came up with our own Cape Cod baseball logo, the Cape Cod Scrod.
What exactly is a Scrod? Now that is a great question. A Scrod is a Cod or Haddock used mainly in New England dishes. Cape Cod is know for it's awesome fishing and this logo shows this fish swinging for the fences. Cape Cod is an amazing place and we're so proud to have a t-shirt that represents the Cape.
You can get both of these closet favorites as part of our T-shirt of the Month Club. Free shipping, discounts and a smile on your face when you pick up your mail. Now that's awesome!
Thanks as always for reading.
Gavin Spittle
Founder, Logo Lover, T-shirt Fanatic
Awesome Sports Logos
Posted in Baseball by Gavin on 5/1/2017 at 10:22:10 pm.
As we bring in 2016, many people are making their resolutions for the new year. We hear some of the same goals each year: hit the gym, eat healthy, quit a bad a habit, save more money, etc.
While many people give up on these resolutions at some point during the year, many others are able to accomplish their goals. I have my own resolutions for 2016, and I plan on using some amazing awesomesportslogos.com t-shirts to help remind me of them daily. These super soft shirts will hold me accountable!
As a baseball writer, and obsessed fan, I have made it my goal to watch more of America's favorite pastime. I want to use that time to grow as a writer, and grow with my family. I want to take my daughter to her first MLB game this year. I want her to be able to experience the game, and witness the love I have for baseball. I know she'll have a blast, and it would make for great family bonding time! To remind me to stick to this goal, I plan on wearing the Boston Accents shirt.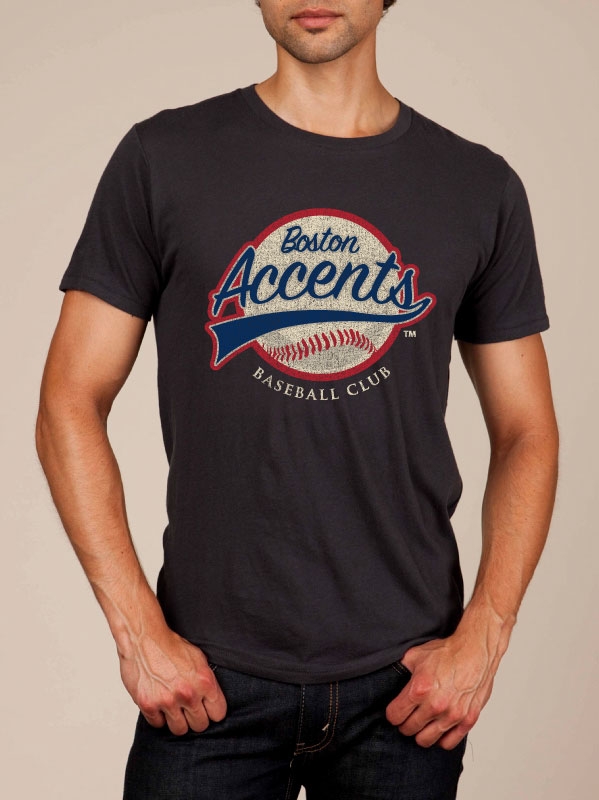 This shirt plants a large baseball right at the center. It will be a great reminder to stick to this resolution!
2. Get out of the house more.
Everyone should take some time to relax. With a busy family life, and a hectic work schedule, I want to ensure I take some personal time. What better way to do that, than to experience the great outdoors? Hiking, camping, and enjoying nature. These are all things that I want to do more of, as I take my mind off of the chaos from work. As a reminder to get outside more often, I will be sporting the Portland Tree Huggers t-shirt.
With a strong, sturdy tree front and center, this super soft shirt will encourage me to take a break, and enjoy nature!
I want to make sure that everything I am doing benefits my daughter. I want to be the ideal role model, and someone that she wants to look up to. When I live my day-to-day life, I want to ensure that all decisions I make are with her in mind. As she grows up, and looks back, I want her to know that her father did everything he could to raise her right, and provide her with all the opportunities she needed to succeed in life. What better way to hold me accountable to this, than the California Crazy Eights shirt?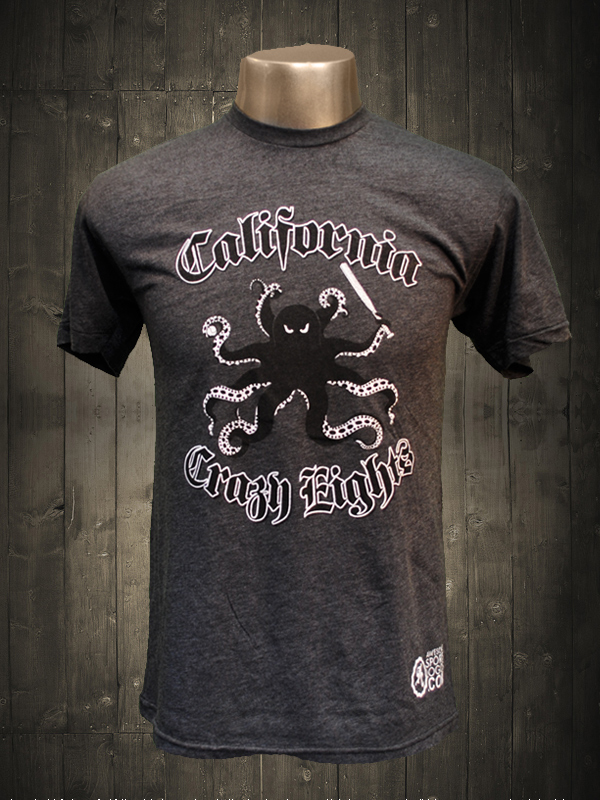 This sports team logo features an octopus. It'll serve to remind me to act like I have eight hands, all the more to do things to become a better father.
These few shirts are going to be great additions to my wardrobe! On top of styling new shirts, I'll have those constant reminders to not give up on any of my 2016 resolutions!
If you like any of these shirts, or any others from our awesome selection, add them to your t-shirt of the month club rotation!
Thank you for reading and supporting us!!
Awesome Sports Logos Columnist
Posted in 2016 by Gavin on 1/9/2016 at 1:46:42 pm.
There aren't many sports franchises more iconic than the Boston Celtics. Naturally, their logo is equally recognizable and one of the best in sports.
The Irish heritage is a big part of the Boston culture so the logo/concept in itself is very fitting and already includes that very critical element of relevance. As it applies to the actual image, the pseudo-leprechaun/pseudo-human pops and is more than appropriate. What I love most is that human element which makes it more connected to the Boston people. Not suggesting they are all leprechauns or anything, but it's symbolically representative of Bostonians. It's that whole concept where you use "one to represent the whole," or whatever—I was probably sleeping or playing hangman when that was taught. According to NBA.com, the logo was designed by the brother of legendary coach and executive Red Auerbach. Zang Auerbach came up with the first leprechaun historic logo in the 1950's. Shortly after that, the Celtics began their historic run of 17 World Championships, the latest in 2008.
The color-scheme is appropriate and perfect. It's obviously going to be green with the Celtic/Irish theme, but I love the gold vest and the mix of white and black as well. It all works. It's balanced. The dominant color isn't overwhelming. The complementary colors aren't too much in the spotlight.
The logo embodies a pretty common template, with a little of its own flare. The image isn't totally contained within the circle which is a minor thing, but in this case, a positive. At times I think it can look unorganized when that's the case, but not here. The standard circle with "Boston" and "Celtics" on either side is pretty simple, but that's Boston Celtics hoops. It's got a dedicated fan base of basketball fans. They aren't at games to dance on the video board or watch others on "Kiss Cam." And that vintage element of the logo is outstanding and I hope they never mess with different fonts or any of that junk. I can't picture another logo at center court of the Garden with that historic parquet floor. So many of the NBA all-time greats have played in Boston and that certainly doesn't hurt this logo's ranking. As we always say, history can certainly bring out the best in a sports logo.
How can you not like this logo? For me, it's one of the best in sports and my favorite NBA logo.
At Awesome Sports Logos, we feature an awesome Boston sports logo. Certainly not as historic as the Celtics but like the C's, the Boston Accents certainly describe the people of "Beantown".
Over the years, the Boston Accent has become more and more distinct. Let's just say the letter "R" isn't as prominent when it comes to saying car, bar or Fenway Park. It's distinctive and unique, just like the city of Boston.
Thanks as always for reading and support the cause by purchasing one of our awesome t-shirts today.
Posted in Basketball by Gavin on 1/18/2015 at 5:43:07 pm.