Awesome Sports Logos Blog
Happy Birthday Bootleggers! It's National Bootleggers Day! Do we toast to this? Pour a little whiskey out to those in the past? Wear our favorite Nashville Bootleggers awesome t-shirt? First, lets dive into why today celebrates the Bootleggers.
According to nationalcalendarday.com, January 17th is the birthday of Templeton Rye. On this day in 1920, the sale and manufacture of alcohol was banned. It's also the day some outlaws in small town Iowa didn't agree with the decision and began bootlegging Templeton. This product was also the favorite drink of notorious gangster Al Capone. Today is Capone's Birthday as well. Capone was known for hiding out in various parts of Tennessee and was involved in the Bootlegging industry.
Where does the term "Bootlegging" come from? By most accounts, the word came to use in the 1880's describing the method of concealing flasks of liquor in boot tops when going to trade with Indians. Makes sense to us.
The term has since taken on more of a romantic theme with whiskey lovers. Bootlegger is the name of bars, liquor stores, even restaurants. People are fascinated by mafia/gangster history and names like Capone, Lucky Luciano and Bugs Moran.
I also find it romantic and loved the term and it's history. I wanted to find a city that fit the term and lifestyle and the awesome city of Nashville popped up. Not only is it a blossoming sports city with the Tennessee Titans, Nashville Predators, Vanderbilt and the AAA Nashville Sounds, "Music City USA", is also a major pouring spot for Tennessee Whiskey which has a rich history of Bootlegging. I wanted to blend the two so I created a sports logo that looked like he had come from the mountains with a new stash. He's giving anyone that gets in his way the Heisman and instead of cradling a football, he has a whiskey barrel firmly in his grasp. That's what sports logos are all about, combining local history with that sport and a perfect name.
This is where the t-shirt met the real Heisman Trophy.
You need to celebrate National Bootleggers today by buying this super soft t-shirt. Better yet, make it one of your choices as part of our T-shirt of the Month Club. Great discounts, free shipping as part of the club.
That's how we roll at Awesome Sports Logos!
Happy Bootleggers Day Everybody,
Gavin Spittle
Founder, Logo Lover, T-shirt Fanatic
Awesome Sports Logos
Posted in bootlegging by Gavin on 1/17/2017 at 10:50:34 pm.
January 17th is National Bootlegger's Day! Yes, I promise this is a real thing!
When Prohibition began in the United States, on January 17, 1920, many people across the nation stepped in to take matters upon themselves. People started brewing their own alcohol, and others started transporting the illegal to anyone who would buy it. This was all in an attempt to make a large profit. Some folks didn't even care about the money. Some felt it was wrong for the government to take away their alcohol.
Beer, whiskey, wine. People wanted it. People needed it. Someone had to give the citizens what they wanted. Someone had to brew it up, and deliver it, under the cover of night. Several precautions were taken to avoid police, federal agents, and any person that would rat them out. A new crop of people came into existence. Some of these folks were caught, and a lot of them were able to get away with it. These people would eventually be known as bootleggers.
It is said that the term "bootlegging" began during the Civil War. Soldiers would sneak liquor into their camps by hiding pint bottles in the boots underneath their trousers. Parts of Tennessee became famous for bootlegging. In fact, Johnson City Tennessee was known as a hideout and a stopover point for Al Capone. Prohibition was lifted in 1933 and Tennessee Whiskey has been flourishing ever since.
In honor of these people, considered heroes in their era, we encourage all of you to show them support, on their day of remembrance. What better way to show your support for National Bootlegger's Day, than our awesome, super soft Nashville Bootleggers t-shirt.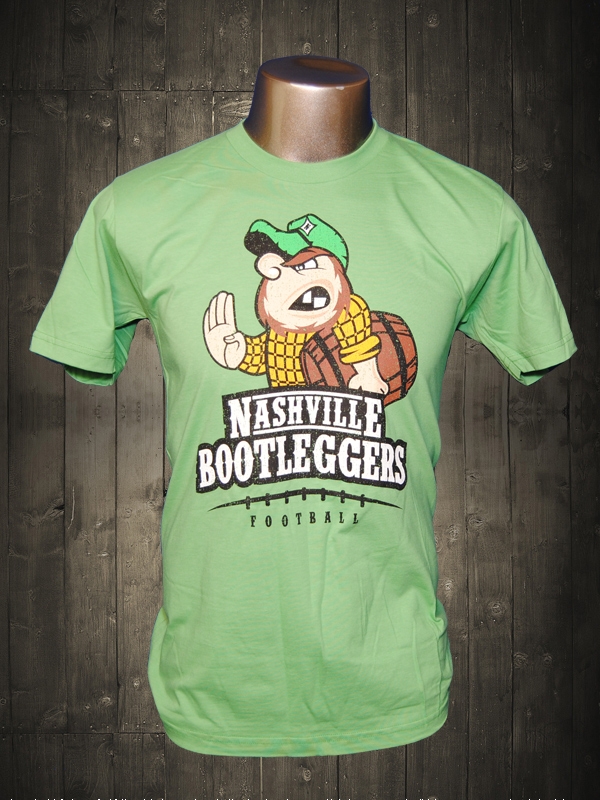 Thanks for reading and supporting us.
Awesome Sports Logos Columnist
Posted in Bootleggers by Gavin on 1/12/2016 at 7:34:17 pm.