Awesome Sports Logos Blog
I used to enjoy playing with the Tennessee Titans back in my Madden-playing days. One of their McNair-George-Dyson-Wycheck-Matthews-Bulluck years was my franchise pick for Madden. Their colors are cool--I've always been a fan of the light and dark blue combination--but I just don't get the nickname or logo.
First of all, Nashville's a city full of culture and history. Last I checked, though, battles among Greek Gods and its accompanying mythology isn't a part of it. Titans? Na. You can do better. Like the Nashville Bootleggers but we'll get to that at the end.
But, that's what was chosen so that's what they had with which to work. So, anti-Titans biases aside, I'm not a fan of their logo.
I like the colors. Let's get that out of the way. Ok, moving on...
A Titan is a pretty powerful thing. If you want to get really analytical, why is the logo a shield? A shield symbolizes being on the defense--being attacked and not attacking. But, you could do some creative detailing with a shield. They just don't.
If you're going with a shield over a powerful titanic figure, you better make that shield pretty badass. A sword-like "T" with fire, which doesn't really fit the concept, doesn't pass the test.
The only local uniqueness is the 3 stars and similar colors which are represented in the Tennessee state flag.
On the surface, this logo is passable. It looks cool. I like the colors. But when you think about it and consider some of the really neat logos, this one doesn't stack up.
I will soften the blow by mentioning that LP field where the Titans play has a really cool atmosphere and if you've never been to Nashville, make plans because that city is truly awesome!
So we mentioned the Nashville Bootleggers, a football sports logo that Awesome Sports Logos came up with. Parts of Tennessee became famous for Bootlegging. In fact, Johnson City Tennessee was known as a hideout and a stopover point for Al Capone. Prohibition was lifted in 1933 and Tennessee Whiskey has been flourishing ever since. This Nashville sports logo is carrying a Tennessee Whiskey barrel instead of a football in a Heisman Trophy like pose. A cool sports logo with tons of Tennessee history.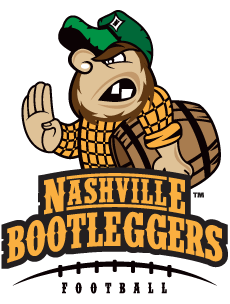 Thanks as always for reading,
Posted in football logos by Gavin on 9/20/2014 at 4:57:51 pm.