Awesome Sports Logos With Hidden Messages
Some sports logos are pretty straight forward. For instance, there isn't anything crazy or tricky about the Yankees' famous interlocking N and Y. However, certain logos, especially some that are no longer active, were tricky, tricky. Here are some with some hidden symbolism befit for an exercise to keep an elementary school student occupied for a bit of time…
Akron Rubber Ducks: The newest logo from the Double A Indians debuts this year. If you look at the back of the logo, you will notice tire treads. The logo is not named after the popular bathtub friend. The name derives from Akron being the "Rubber Capital of America".
Arizona Diamondbacks: Did you ever notice that the head of the snake forms a "D" and a "B"?
Atlanta Falcons: Did you ever notice the Falcon flapped its wing mid-flight in the shape of an "F"?
Big Ten Conference: Did you ever notice the "11" crafted within the lettering to signify the number of schools in the conference?
Milwaukee Brewers:
Did you ever notice that the glove's fingers perfectly molds an "M" and the ball, with the help of the glove's thumb, creates a "B" to initial the team's location and nickname?
Minnesota Wild: Did you ever notice that the depiction of a "Wild" scene also shaped the head of a wild animal?
Montreal Canadiens: Did you ever notice the "H" in the middle of the "C"? Many think it's from their nickname "Habs" but the logo actually means Club de Hockey Canadien.
Washington Capitals: Did you ever notice that the wings form the shape of a "W"? Oh yeah? What about that a silhouette of the Capital is beneath the winged creature?
Washington State University Cougars: Did you ever notice that the Cougar forms a "W," "S," and a "U"?
At Awesome Sports Logos, this is one of our favorite traits of a sports logo. We love making logos that have those hidden items that you don't necessarily catch upon first look. Our best example is our Brooklyn Leg Breakers logo.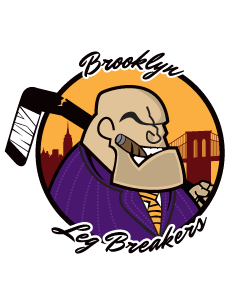 Focus on the stick tape on the logo. If you focus on it, you will see that it's just not a hockey stick wrapped. It's wrapped but it also has the NY for New York hidden in the tape.
Our other logos with hidden messages include the
Dallas Doughboys
with a rifle that is actually a baseball bat and the
Middleton Fingers
with one bat sticking out among the rest. That one is a little easier to find. See if you can find some other hidden items in our logos. If you email gavin@awesomesportslogos.com with some other hidden items you've found, you might receive a free t-shirt.
Thanks as always for reading,
Awesome Sports Logos Columnist
Posted in Awesome Sports Logos by Gavin on 4/3/2014 at 9:58:19 pm.