Awesome Sports Logos Blog
The motto when I started Awesome Sports Logos was to bring the fun and creativity back to sports logos. Hopefully you have found several of our logos creative with some great local meaning behind them. That's what logos should be about.
I've been meaning to write about this company for a while because they deserve a lot of credit for what they have done. Brandiose is knocking it out of the park with some of their sports logos. You won't see a bland logo come out of this company. Their logos are unique with rich local history. How do they know that history? Because they visit the market, speak with the teams and the locals. They do more than just a Google or Wikipedia search to find out the local history. Here are some of my favorite logos that Brandiose has come up with.
The El Paso Chihuahuas
Now one of the top selling Minor League Logos, it was awesome to fly into El Paso International Airport and see several stores proudly selling Chihuahuas merchandise.
The Biloxi Shuckers
The original "Seafood Capital of the World is highlighted with this logo. It's awesome how they made a mollusk look so serious. Anyone can make a lion look ferocious but Brandiose can make an oyster look like a .330 hitter with some pop in that bat.
The Spokane Indians
This once again highlights the diversity of Brandiose. This is a perfect example of embracing the culture and history of an area. This logo's lettering is in Salish, the language of the Spokane Tribe. In an era where many Indian logos are disappearing, this is a rare instance where the tribe gave their blessing on this logo. I'm fascinated with the Salish lettering and coupled with the history, this is what an Awesome Sports Logo is all about.
The Akron RubberDucks
Akron is the Rubber Capitol of the World. I love the weaving in of a mean looking Rubber Duck with tire tracks. We had the same concept with our Akron Rubbers Logo when we made our racing t-shirt.
Here are two of their latest projects, the Hartford Yard Goats and the Norfolk Tides.
Baseball is returning to Hartford for the first time since 1952. The new team did a "name the team" contest and Yard Goats was the choice. It was up to Brandiose to come up with the logo and to me, they nailed it. I especially love the logo colors. According the Yard Goats website, they pay tribute to the Hartford Whalers which I think is an awesome detail.
Some were upset when the Norfolk Tides changed their logo. I can't understand why. The wave sports logo to me was just there. I thought it was a really cool idea to embrace the history of the team by keeping the name but making the logo fresh and marketable. This logo also continues to embrace what Norfolk is all about. I can guarantee that merchandise sales will go up in Norfolk.
Kudos to you Brandiose! You are bringing back the fun and creativity back to sports logos and doing it the right way. We think you are awesome!
Of our baseball logos, the one we get asked, "Is that a real baseball team" is our Idaho Taters cool t-shirt. It was our first logo created and is still one of our favorites. You can pick up the Taters and add it to the list as part of our T-shirt of the Month Club.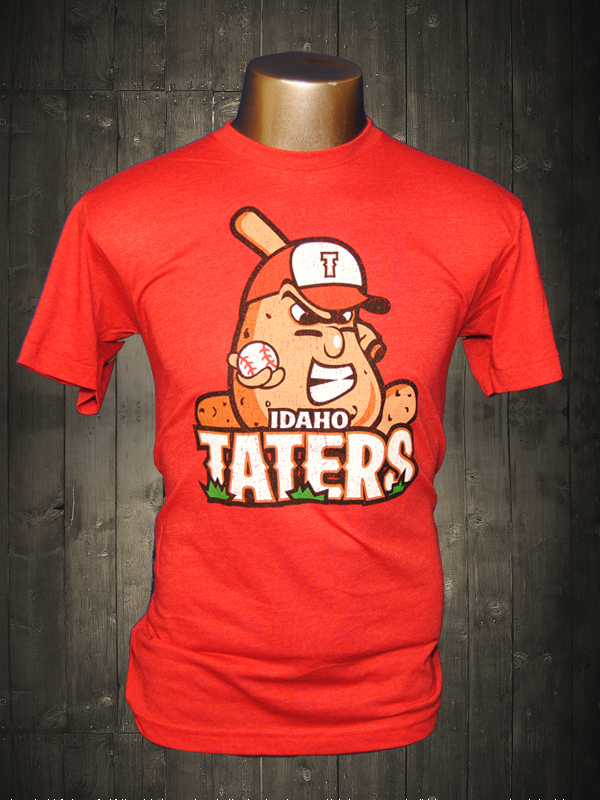 Thanks as always for reading, you guys are awesome!
Founder, Logo Lover, T-shirt Wearer
Posted in Akron RubberDucks by Gavin on 12/30/2015 at 4:04:56 pm.
I can hear the Taylor Swift catchy tune running through my head. "Haters Gonna Hate…". This week, the Norfolk Tides, AAA affiliate of the Baltimore Orioles unveiled their new logo along with some alternate lettering and logos.
Tides GM Joe Gregory explained the change on the teams website. "We're excited to unveil a new look that has a unique character and fun personality. The series of logos embrace the nautical nature of our community, giving our organization a contemporary look and feel. It was important for us to update our logo with a modern design while maintaining the Norfolk Tides moniker that has become synonymous with family-friendly entertainment in this area for more than half a century."
So what's the issue? They kept the nautical nature which is a huge part of Norfolk. They kept the name which has been part of baseball's minor league history. Their attendance has been sputtering the last few years. A logo change was needed. Let's do a comparison for you to make the decision.
I like this logo. I think it's more appealing for merchandise sales. As Joe Gregory points out, they kept the nautical theme which is a huge part of the Norfolk lifestyle. I love unusual animals becoming sports logos. The Seahorse certainly falls in that category. I love the small change to the trident. Instead of being the typical three pronged, they morphed it into a sideways "N" while keeping the shape of the spear. The primary colors of orange and green resemble those of the University of Miami which I've always found catchy.
I also really like their away cap logo. It's the Norfolk "N" wrapped in anchor chains.
I honestly don't understand why some are up in arms about this new logo. Clearly the old Tides wave logo wasn't a huge merchandise hit. They are trying something new, something different and trying to strike gold like the El Paso Chihuahuas did with their new logo. The Team was proactive against the haters on social media and put together this video reading the mean tweets.
Plus, let's give credit on creativity. That wave logo had none. Norfolk is doing what our company Awesome Sports Logos is attempting to accomplish and that is to bring back the fun and creativity back to sports logos.
Ignore the hate Norfolk, you deserve to be applauded.
We also feature a nautical themed baseball, logo, the Savannah Seamen.
Nicknamed the "Hostess City of the South", Savannah, Georgia is an important Atlantic seaport. In fact, as recently as 2009, Savannah was North America's 4th largest seaport. Container ships pass each other daily in the Port of Savannah under the Talmadge Memorial Bridge.
Thanks as always for reading,
Founder, Logo Lover, T-shirt Wearer
Posted in Baseball by Gavin on 12/6/2015 at 4:49:23 pm.