Awesome Sports Logos Blog
We've taken a look at logos from so many different angles but not yet concerning the intimidation factor. This simple idea was inspired by Awesome Sports Logos masterpieces like the 'Brooklyn Leg Breakers' and, maybe this is just me, but the ferocity of the 'Lexington Studs,' too. Alas, the 5x5: Top 5 intimidating logos from the 5 big entities (NFL, MLB/MiLB, NBA, NHL, and NCAA). As always, feel free to add your flare to your own list...
NFL
5. Tampa Bay Buccaneers: No, a flag is not intimidating, but I just saw Captain Phillips for a second time and to think some frail "pirate" can cause that much havoc is kind of scary to me.
4. Chicago Bears: There is something about a bear...And that defense...Cringe
3. Carolina Panthers: This isn't just any Panther, this is a gosh darn fierce cat. It looks like it is ready to bite.
2. New England Patriots: This logo looks like a robotic, determined sonuva gun. It doesn't help that Bill Belicheck doesn't smile.
1. Oakland Raiders: Whether it is the black hole or NWA, this is unequivocally the most intimidating NFL logo. From the aforementioned association to the color scheme to how scary their lack of success has been, it all ties together to form intimidation.
MLB/MiLB
5. Kannapolis Intimidators: The personified 'K' is somewhat of a scare. but as a salute to the late Dale Earnhardt and to the name itself, how can you not include them?
4. Pittsburgh Pirates: Raise the Jolly Roger all you want, this ship is headed to a island of horror. Again, there is something about pirates that just get me.
3. Fort Wayne Tin Caps: It isn't often that a fruit can intimidate you but this is a violent red ball of fire. With some helmeted body armor and sharp teeth, this apple might bite you if you don't bite it first.
2. El Paso Chihuahuas: Cute and cuddly or straight up ferocious? The shock of a chihuahua looking for blood ups the ante.
1. Eugene Emeralds: This tree-blooded forest monster is eerily unknown to me. He's hurling a tree in one depiction so how big is this guy?
NBA
5. Minnesota Timberwolves: Hoops logos aren't too scary, to be honest. This guy looks out for blood, though.
4. Atlanta Hawks: But the talons...
3. Boston Celtics: The leprechaun looks scary and cunning. Some people have a fear of clowns, others have a hesitancy of leprechauns.
2. Golden State Warriors: He looks like some stretchy, super muscular, super hero. I just can't tell if he is a good guy or a bad guy...
1. Chicago Bulls: Tough. Stubborn. Snorting smoke. Simple.
NHL
5. Anaheim Ducks: I still can't get the old school, masked quacker logo out of my head. Either way, have you ever had a duck waddle towards you?
4. Minnesota Wild: The camouflaged beast makes this a little trickier because the clandestine nature of this depiction adds a little fuel to the fire.
3. Florida Panthers: The real question is to ask which is more intimidating: Florida or Carolina's panther?
2. Nashville Predators: Because it is a predator and I might be its prey.
1. Ottawa Senators: A gladiator looking to fight? No thanks!
Other
5. Florida Gators: Maybe its a friendly gator, but anything that quick and that strong with that many teeth can only be friendly with an asterisk.
4. Butler Bulldogs: The real life mascot is so cute, though...
3. Missouri Tigers: It looks like it is dashing through the jungle...
2. Duke Blue Devils: The mascot looks creepy like he's up to something. Even if he's not, he's a devil and nothing ever works out to your advantage when you hang around with a devil.
1. TCU Horned Frogs: I don't think this is the kind of Frog that you want to chase after and pick up like when we were kids.

Here's another Awesome Sports Logo that is intimidating. The Caimanes de Rio Abajo is in the Panamanian Basketball League. Even though there is no proof that any Caimanes in the rivers of Rio Abajo exist, the locals say they have seen them. That's good enough for me. This is one of the many real

Panamanian Basketball League t-shirts
that Awesome Sports Logos offers.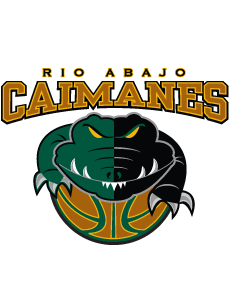 Thanks as always for reading
Awesome Sports Logos Columnist
hoo
Posted in Awesome Sports Logos by Gavin on 5/26/2014 at 2:35:38 pm.