NFL Replacement Officials, Not the Product You Deserve
We Say We Care, but do we?
This week marks the beginning of the NFL season. Millions of us will pay top dollar to watch the most popular sport in America. When you pay top dollar, you expect the best but you will not be getting the best. In fact, when it comes to the officials working these games, you won't be getting second or third best. You will be getting officials that have worked in the Lingerie Football League and some high school officials, a few of which are from Texas.
One of them is Wayne Bernier. I don't blame Wayne or any of the other replacement officials. It is their dream to officiate at the highest level. We all have our dreams and if this is their chance to achieve those dreams, you have to go for it. But you need to know the facts. Before reading his quote, you need to know that Mr. Bernier was officiated a six man high school football game in front of 230 people. Here's what Wayne Bernier told the Amarillo Globe News. "You have seen it on TV and see this big field," Bernier said. "But you walk in and it's still a 100-yard field just like out at Dick Bivins Stadium. There are more people. That's all."
You can read the full article here. Really, there is no difference between high school football of 230 fans and a sold out NFL stadium? No difference between the speed of high school kids and some of the best athletes in the world? If that's the case, then sign me up for Wimbledon. I played college tennis. The court has the same dimensions so I'm ready to win my first title.
The fact is, everyone in the NFL is saying the right things but you and I know better. It's not the same and these officials are way over their heads. But who is standing up and has the regular officials back? The players association has stated that they want the officials to return but saying and doing are two different items. If you want to force the NFL's hand, players need to offer to put up the additional funds to bring them back. That would be a PR nightmare for the NFL but unfortunately the players haven't made that offer and they won't. What about you the fans? You think the owners are listening when you boo? They aren't. These guys are some of the best businessmen in the world. Booing won't rattle their cages. We have to realize that this is a business and the players and owners are in this game for themselves.
The fact is, this is a multi-billion dollar business and NFL officials are part time employees. They don't do it for the money. They are lawyers and doctors and working professionals like you and I who enjoy the spare change but enjoy more being a part of the game that they so dearly love. Walt Anderson, a 16 year NFL official who isn't involved in the negotiations did a great interview with SportsRadio 610 in Houston and you could hear his passion for the game. More importantly, check out the guy wearing the cool t-shirt next to Walt Anderson in this picture. Sorry, shameless plug.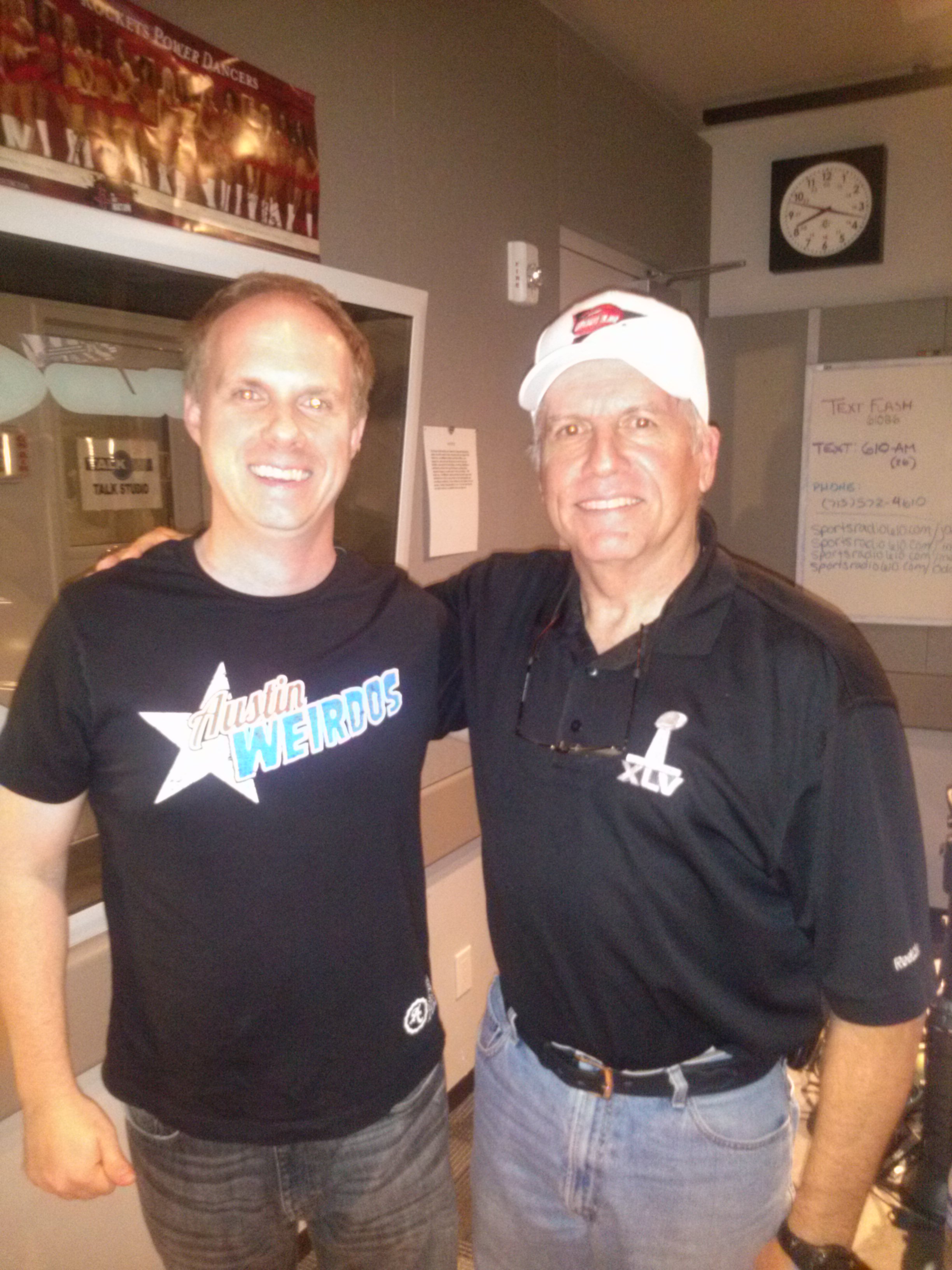 Here's when things will change. If on Wednesday night, a replacement official screws up a call that costs Jerry Jones the game, then the regular officials will come back. An injury which could have been prevented will bring the regular officials back. It's all fun and games in the preseason and we're laughing now but come Wednesday night, everything becomes real except for the referees and that is a shame for you, the die-hard NFL fan.
Gavin Spittle
Sports fan, Logo Lover and Awesome t-shirt wearer
www.awesomesportslogos.com
Posted in Football by Gavin on 9/3/2012 at 8:33:31 am.